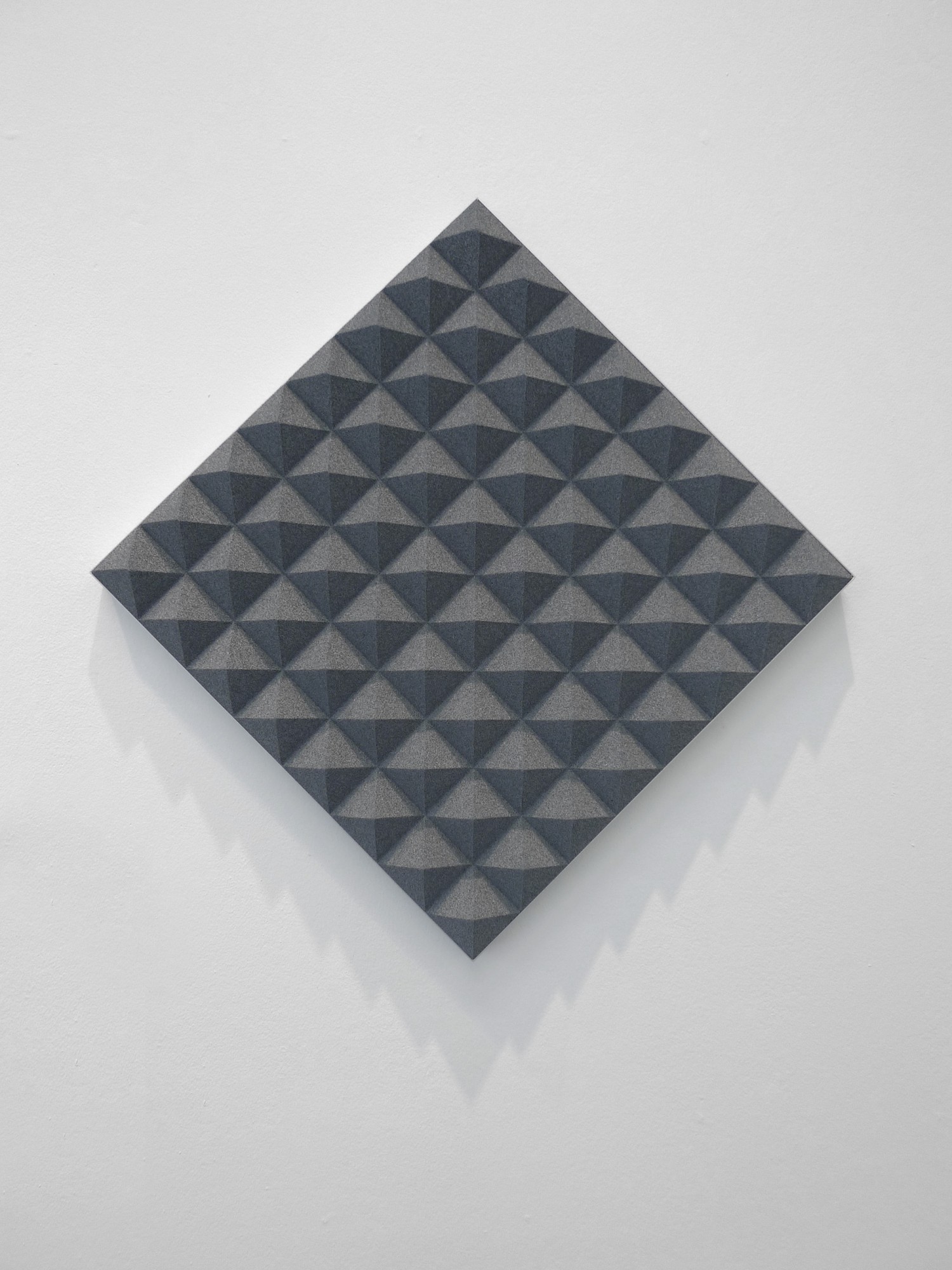 Rumore e silenzio (gris), 50 x 50 cm, foam, aluminium and painting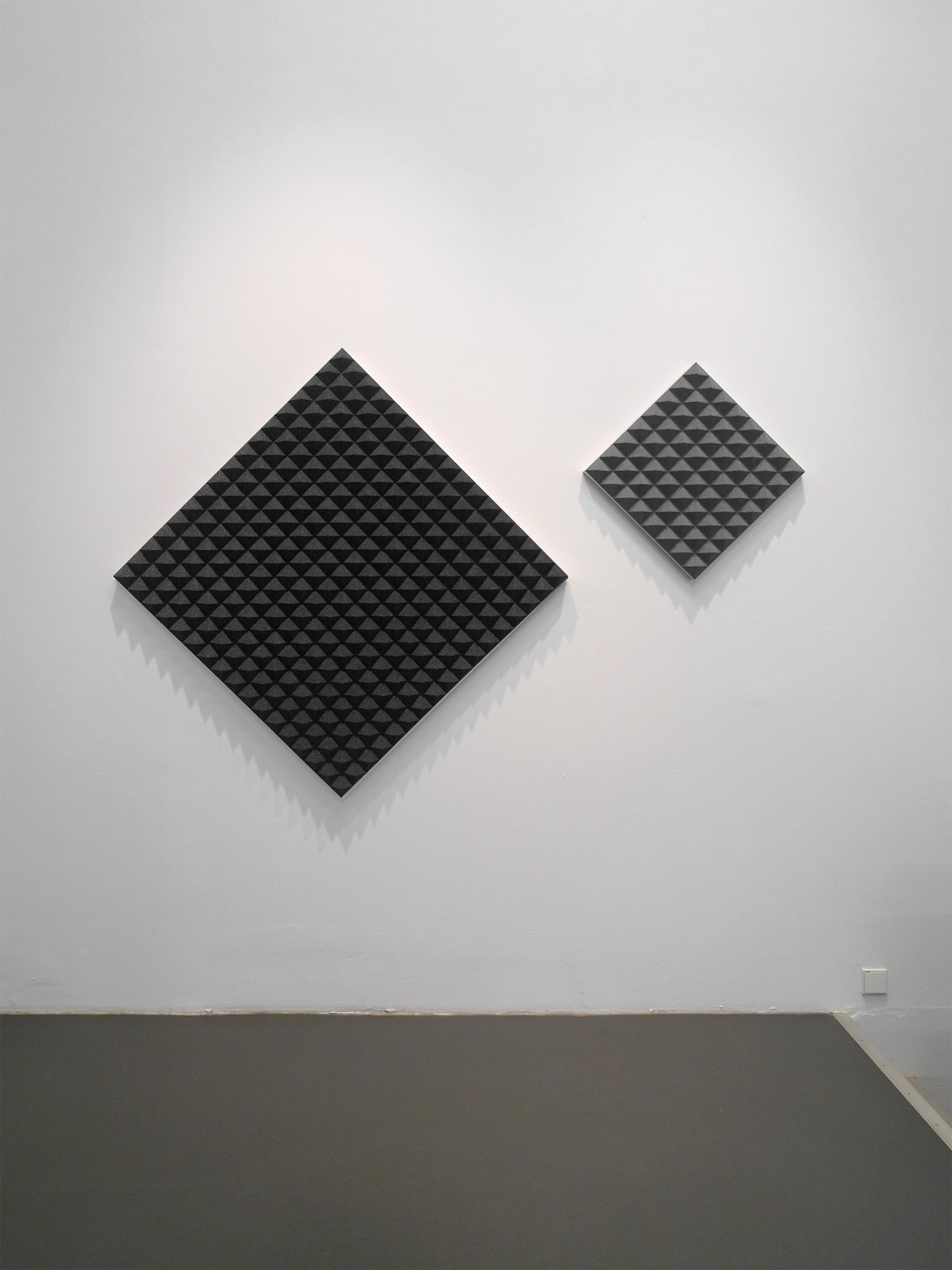 Rumore e silenzio (noir), 100 x 100 cm, foam, aluminium and painting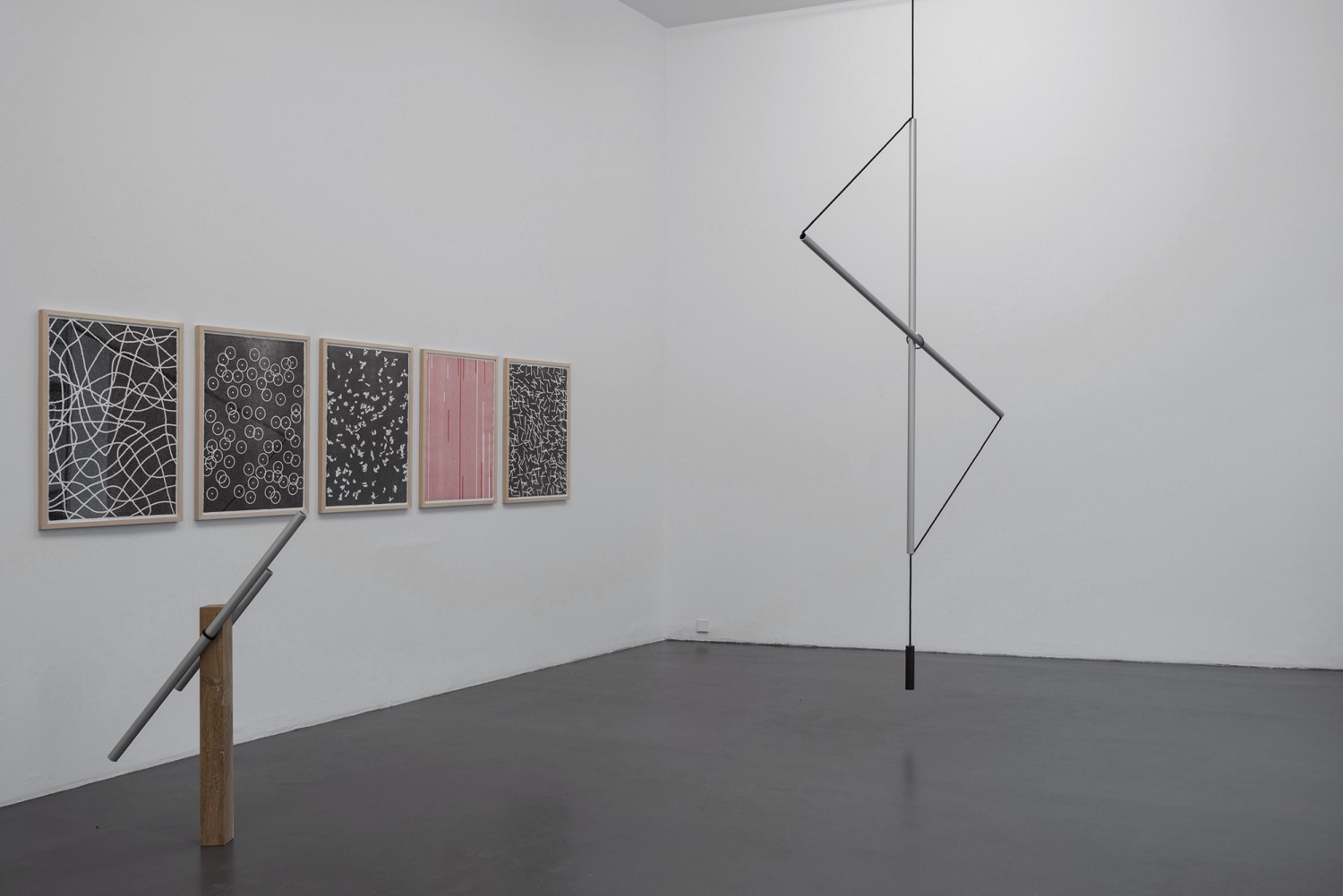 Planarità è utopia, overall view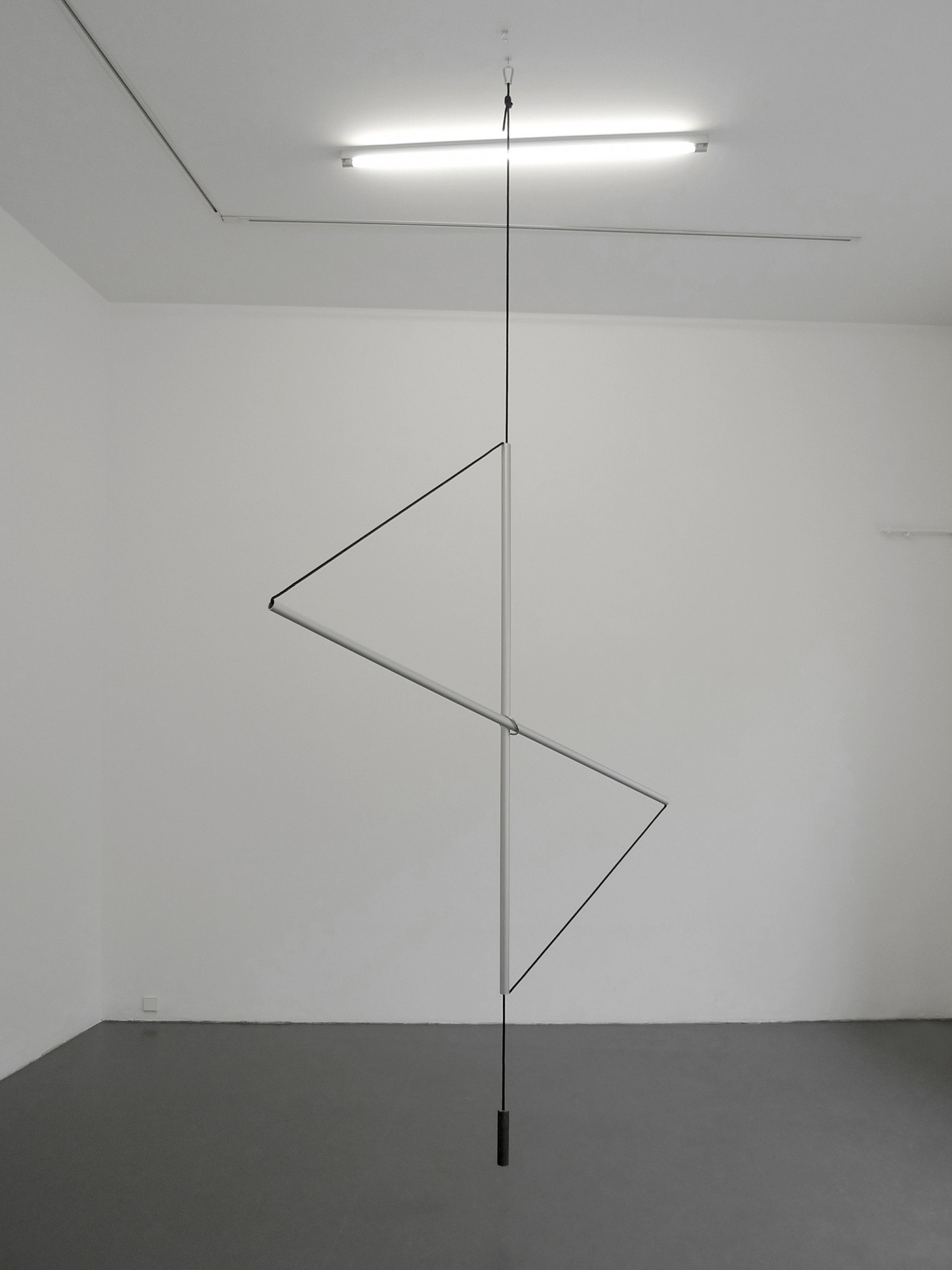 Alla trina, 160 x 400 cm, rope, aluminium and steel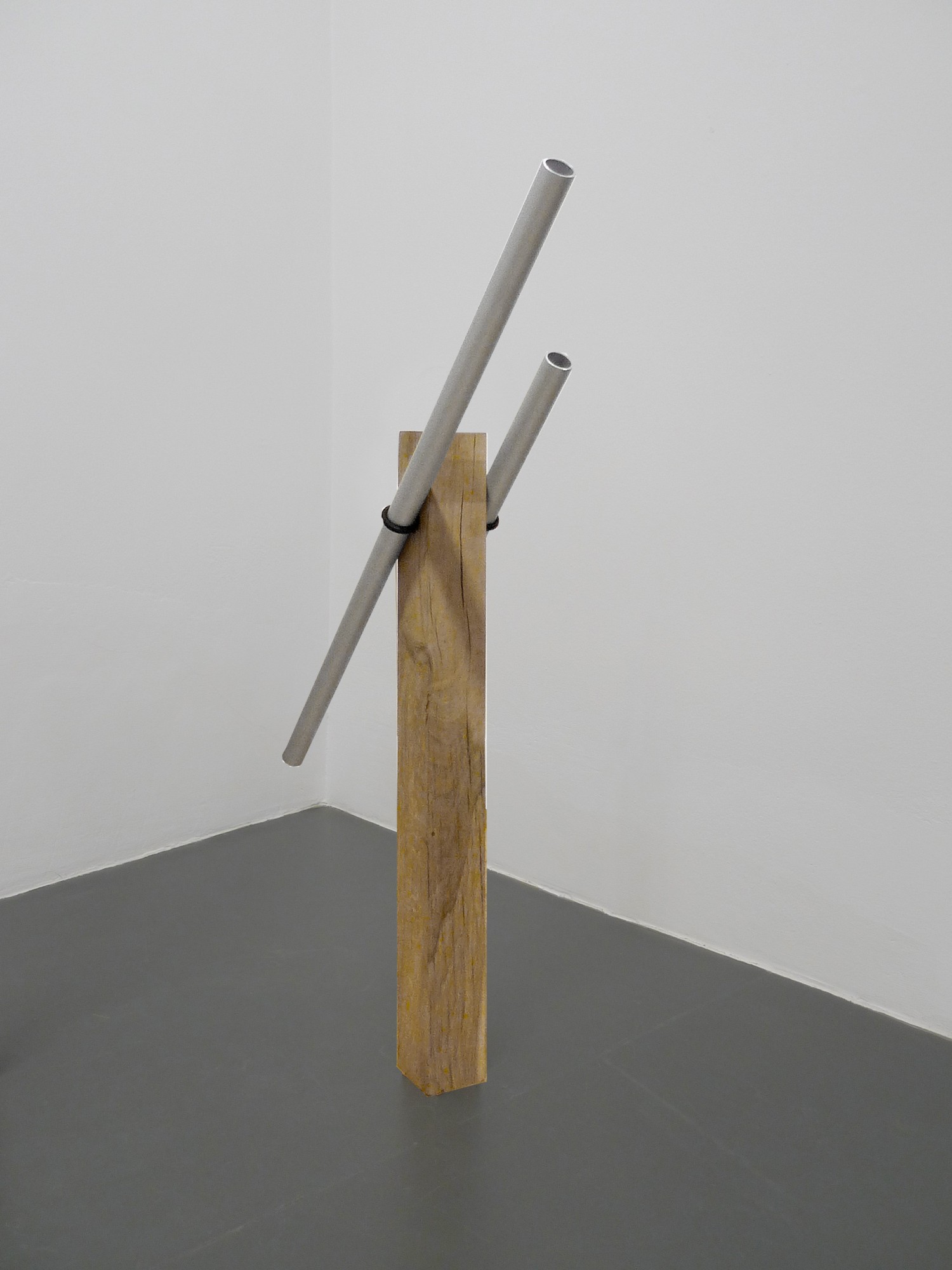 La cicogna, 12 x 12 x 110 cm, oakwood, aluminium and elastic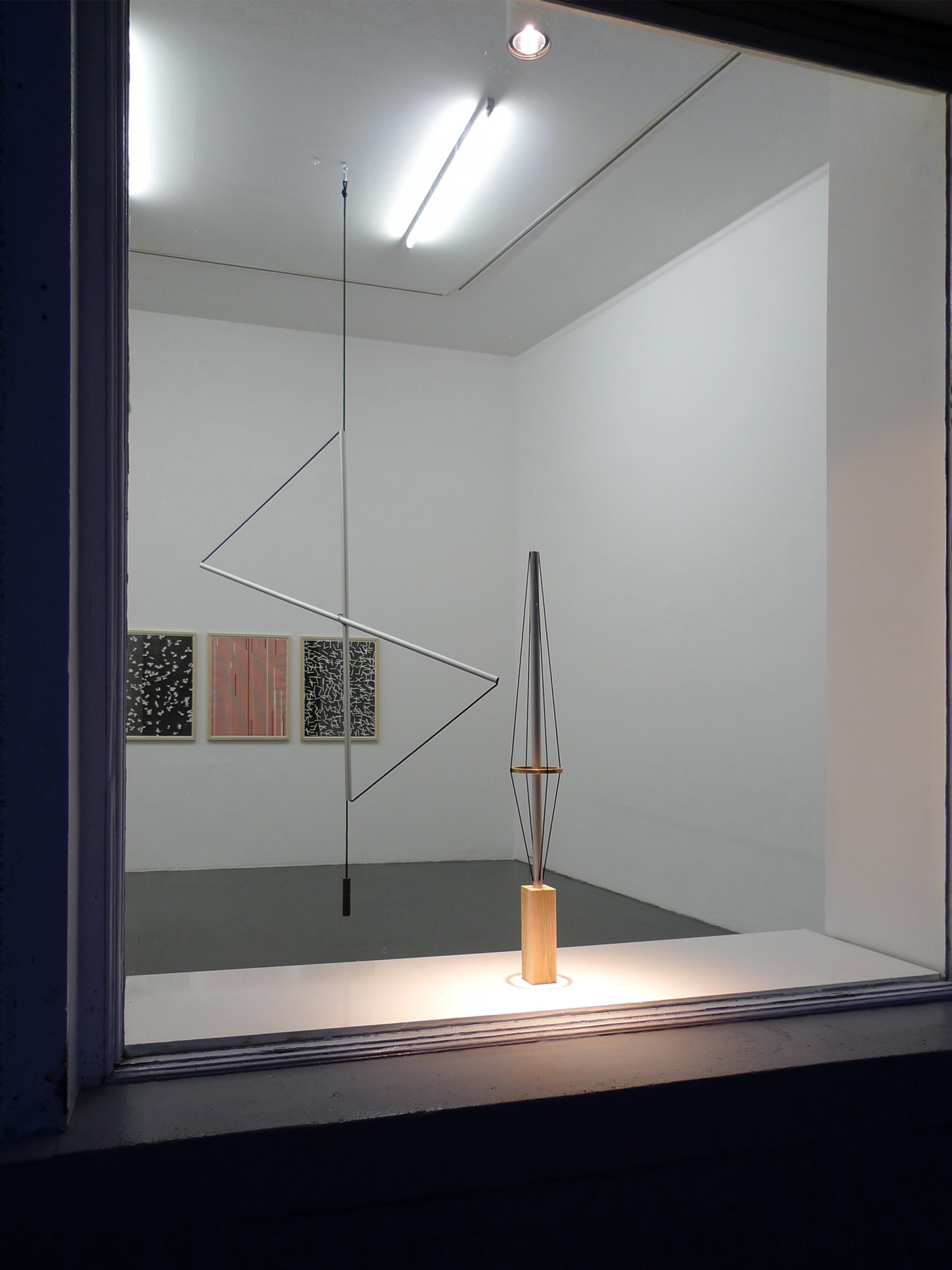 Planarità è utopia, outside view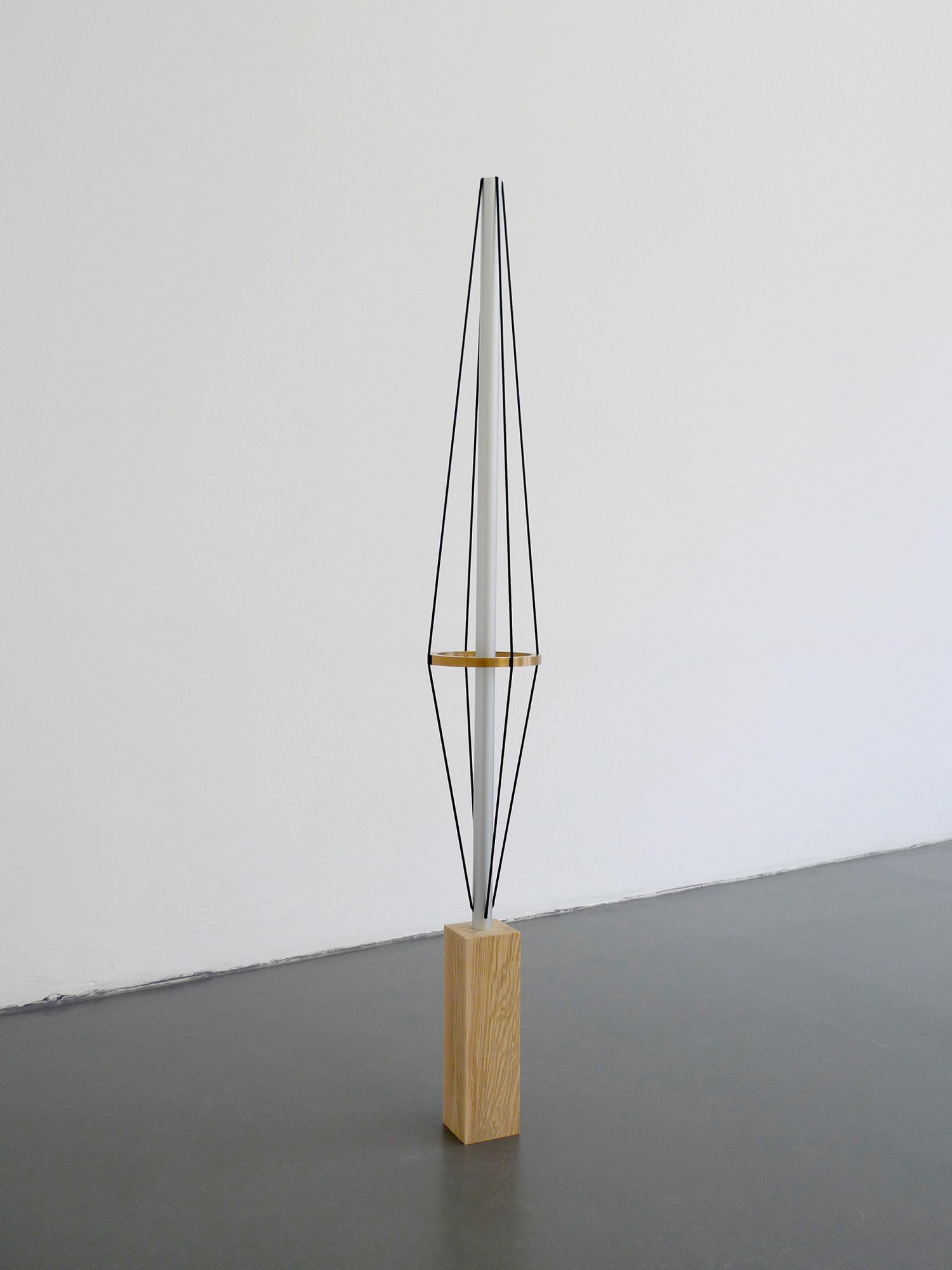 Premo, 18 x 18 x 100 cm, ashwood, aluminium, elastic and brass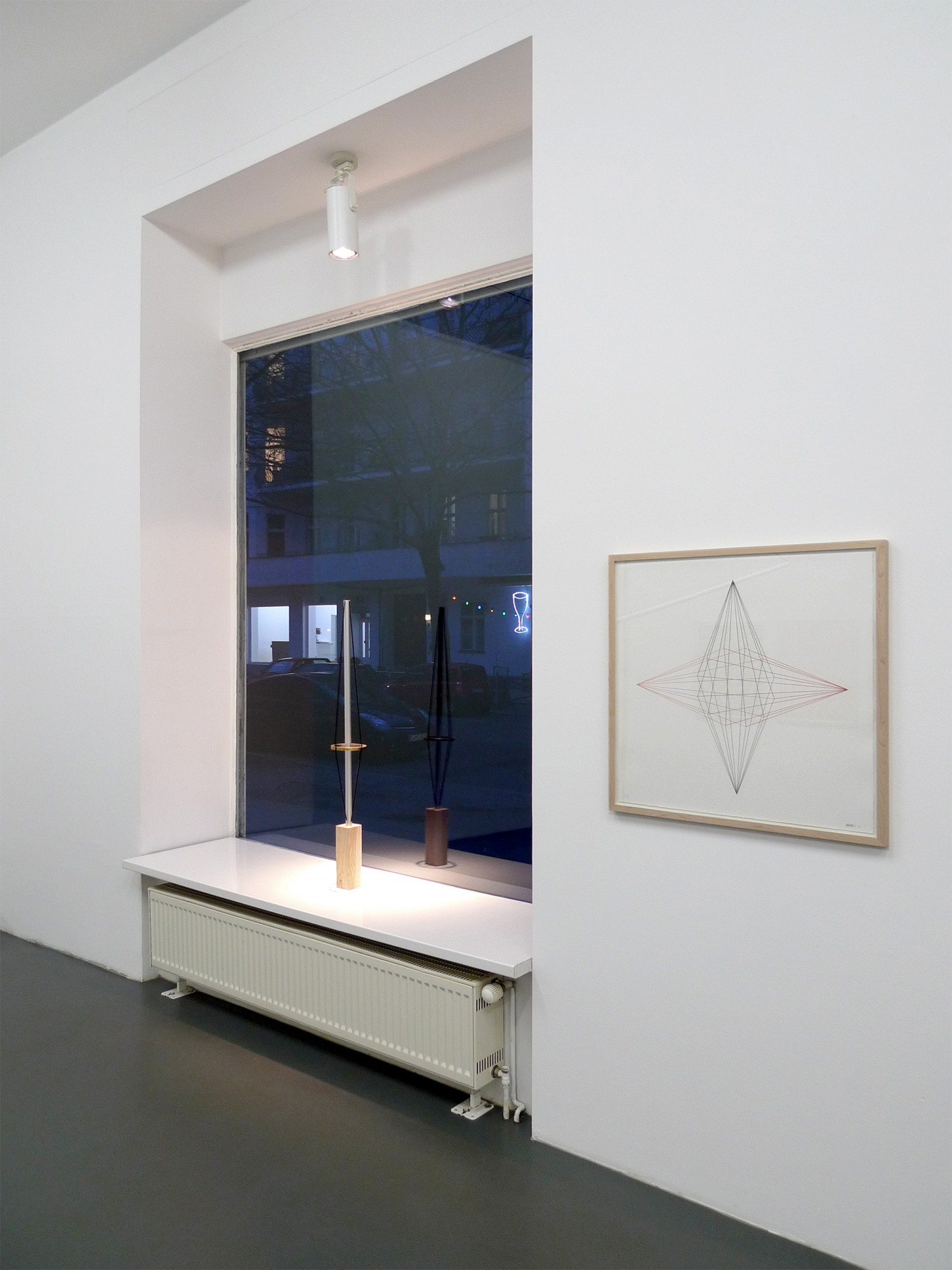 Compass, 70 x 70 cm, lithography, Zerkall paper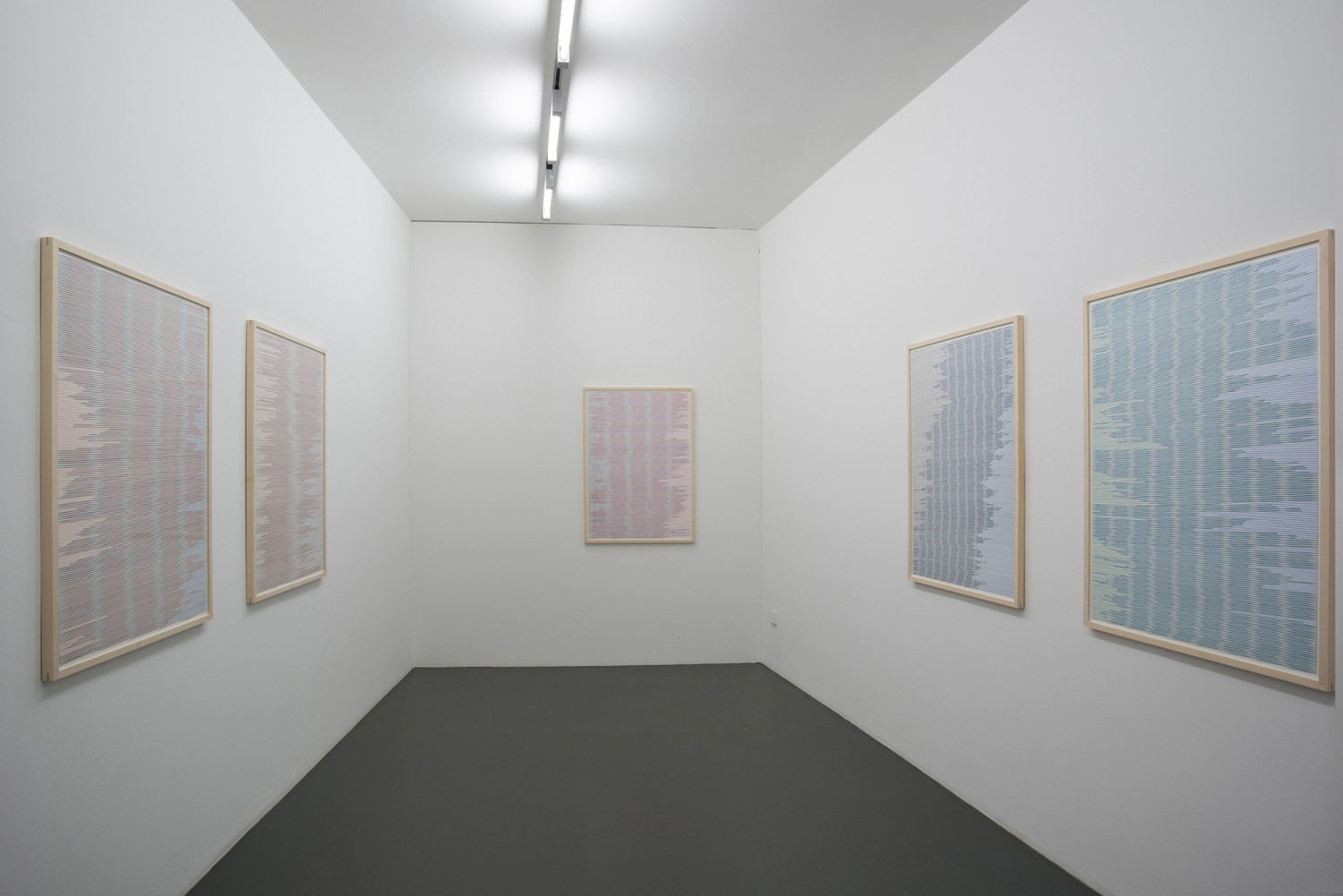 Rimanenza, 70 x 100 cm, serie of 6 drawing, Fabriano paper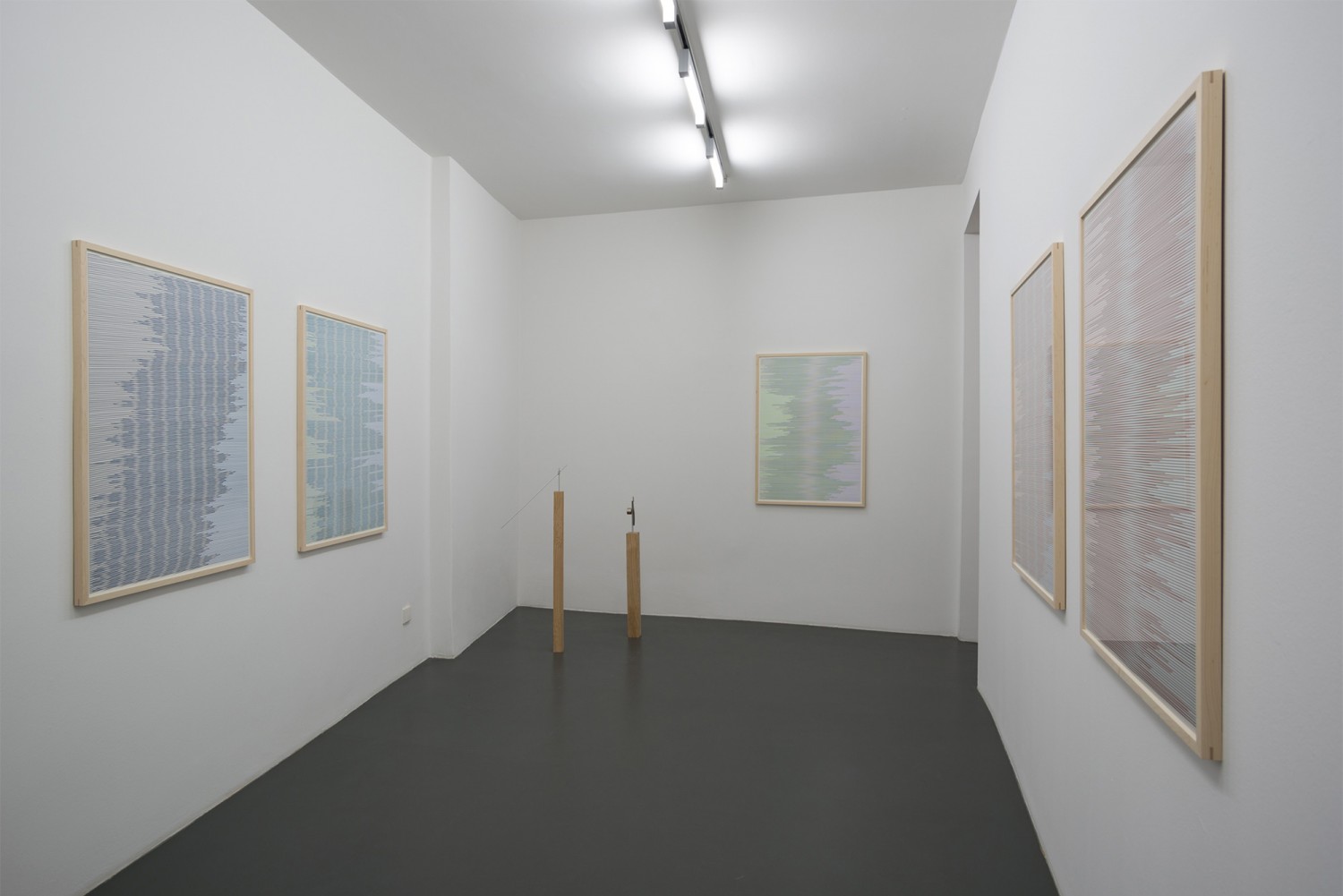 Rimanenza, 70 x 100 cm, serie of 6 drawing, Fabriano paper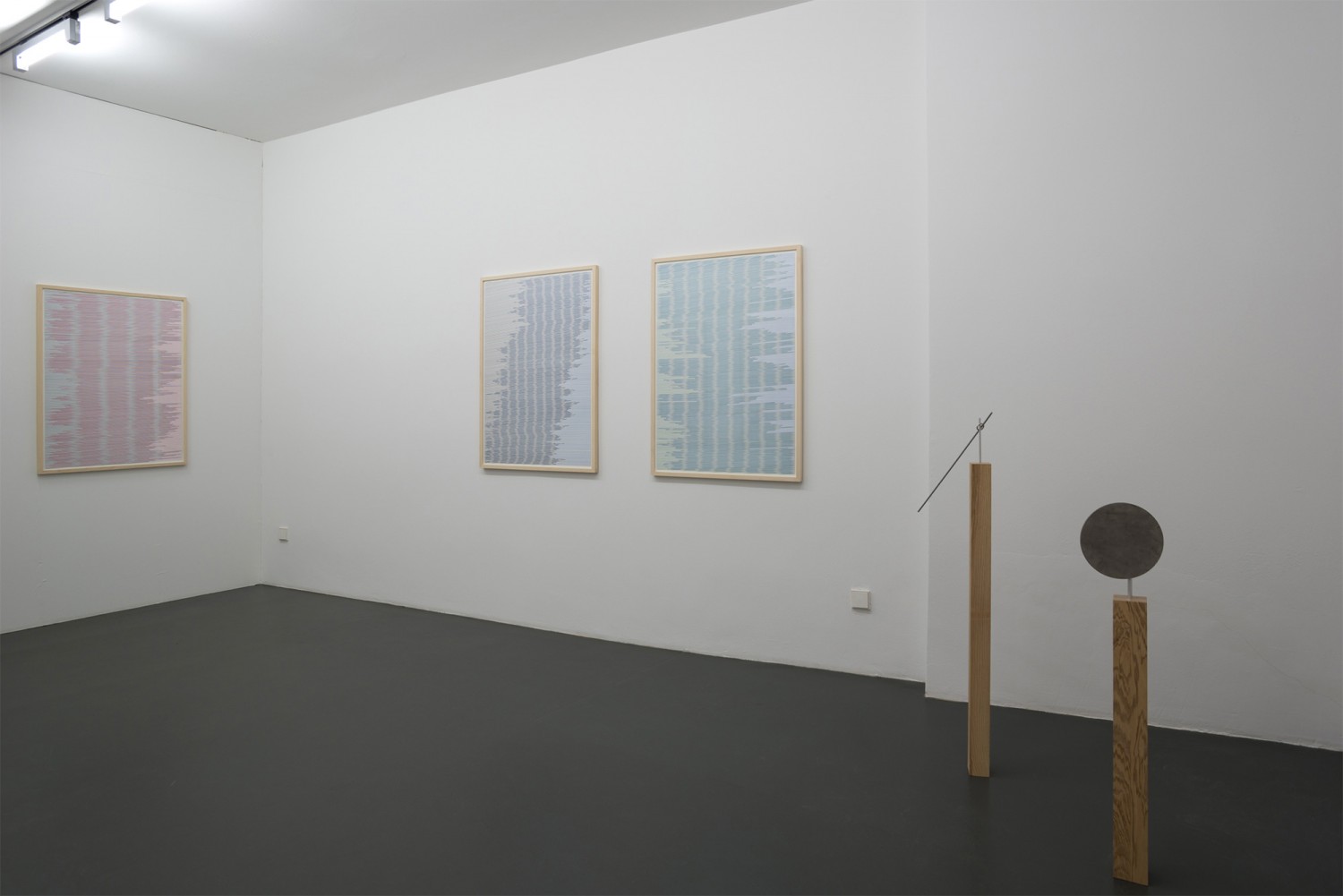 Rimanenza, 70 x 100 cm, serie of 6 drawing, Fabriano paper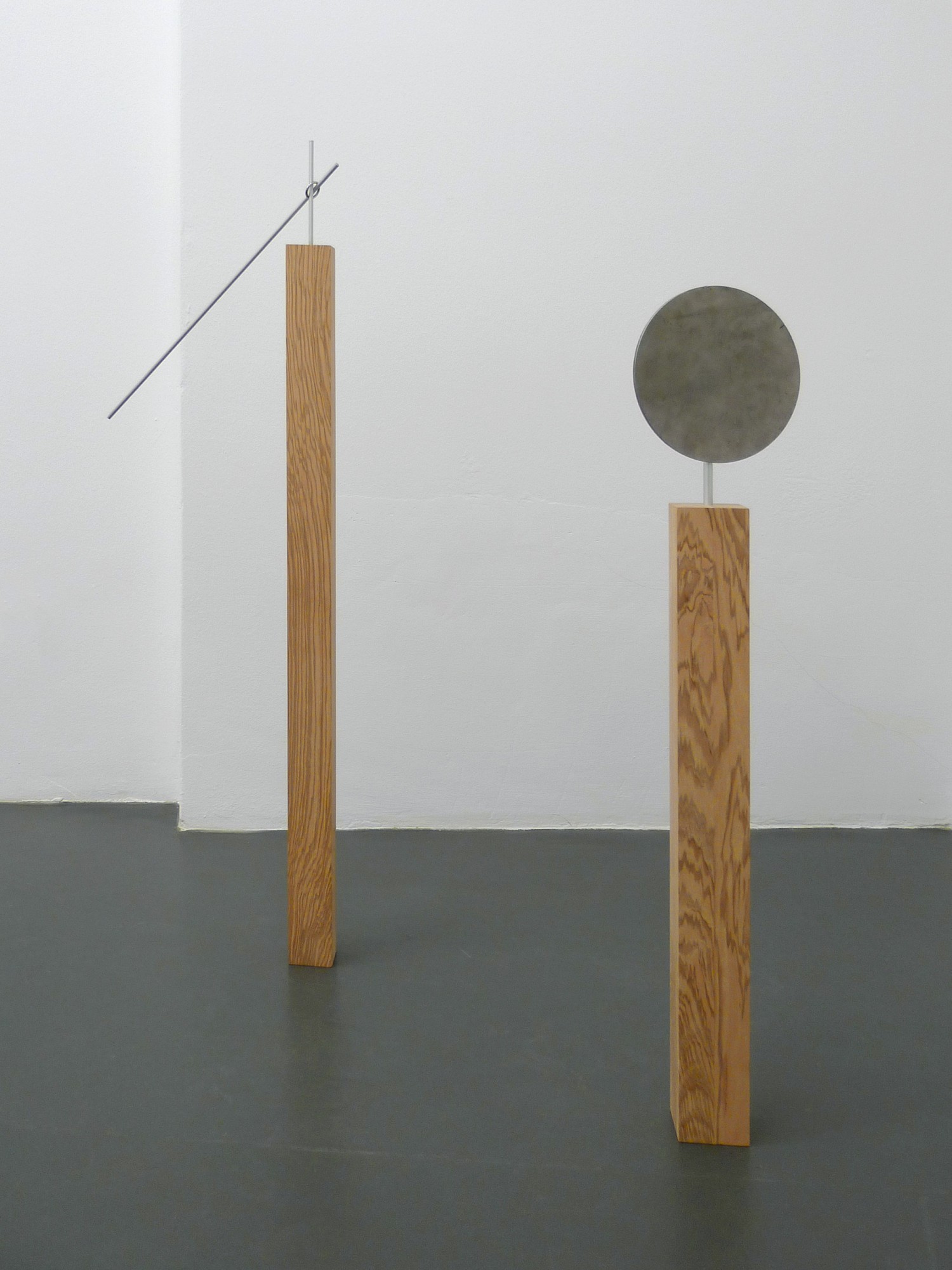 Axe, 8 x 8 x 110 cm, ashwood and aluminium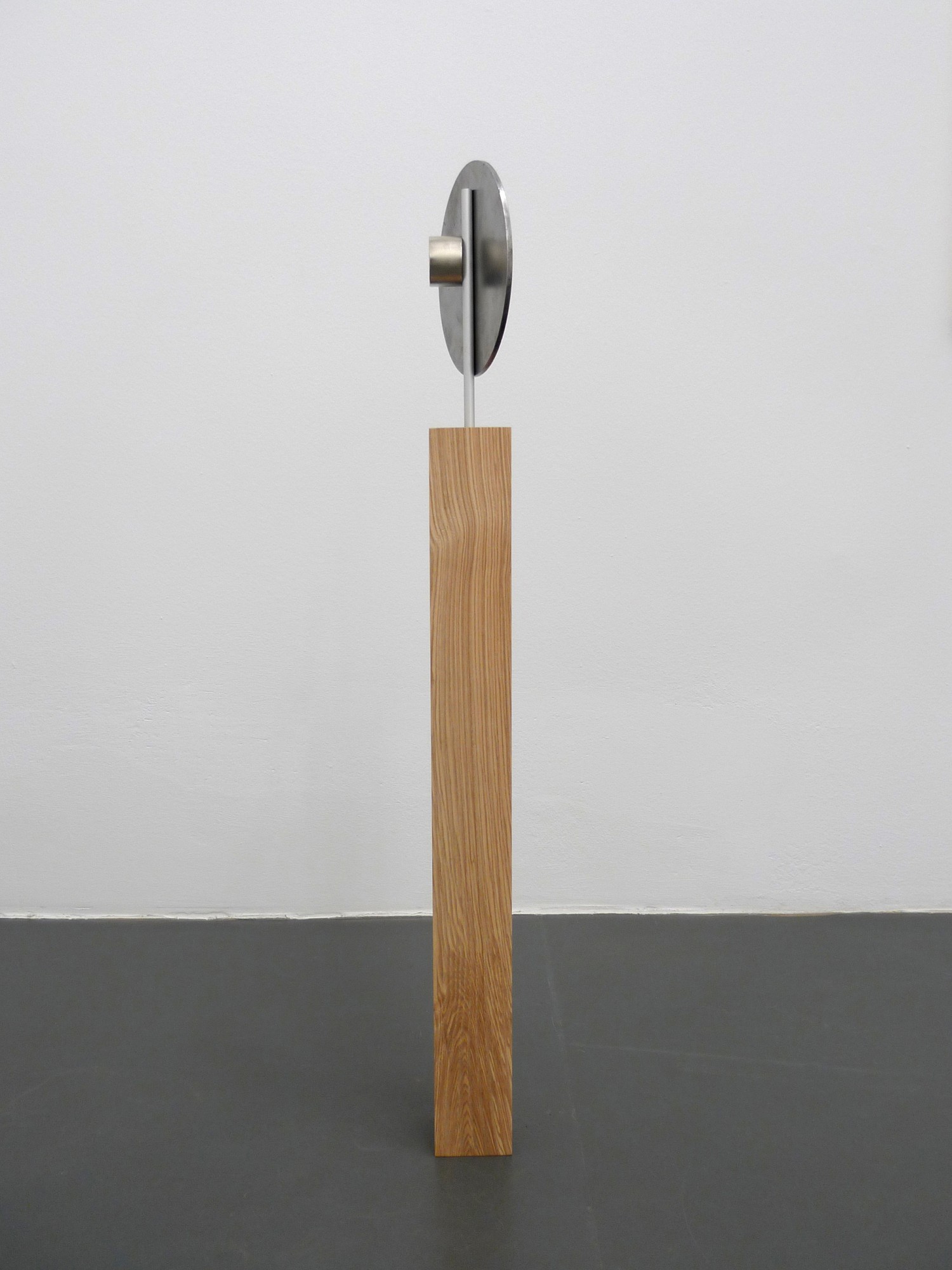 Pile et face, 10 x 10 x 95 cm, ashwood and aluminium and magnet
Planarità è utopia
The Italian title of Simon Deppierraz's solo exhibition, Planarità è utopia, translated into English is "planarity is utopia." The visual play with gravity, illusion and the weight of physical bodies characterizes the work of the Swiss artist. In his exhibition at cubus-m Deppierraz explores these fundamental laws in sculptural objects, a mobile, woodcuts and lithographs as well as drawings.
Deppierraz consciously chose to title this body of work in Italian, because these works were inspired by his tenure at an artist's residency in Genoa. His work environment in the Italian port city marks these pieces. The title questions a physical law: truly flat planes are an illusion, given that in actuality we live on a convex planet, held together only by gravitational force. Deppierraz notes:
"While watching the ocean at the port of Genoa I took pleasure in recalling that the absolute height of zero was established relative to sea level, since water as a material always reverts to a flat plane. Yet, in fact the earth is round. I find it amusing that the horizon is indeed spherical, and that water obeys the law of gravity."
Another source of inspiration for the Swiss artist comes from his experience mountain climbing in the Alps. Here one has the sense of conquering the highs, while simultaneously experiencing the lows, forming an aspect of the background of his work. For cubus-m Deppierraz has created wonderful, small-scale sculptures, each of which poetically explores the forces of physics. The wooden sculpture Axe plays on balance, force and gravity. Here, some of the fundamental laws of physics are suspended. Equally fascinating is Alla Trina, which uses a system of fixed points that were influenced by a specific type of sail. Thus, with every breeze a kinetic mobile is created. Deppierraz comments, "I like mobiles, because they enable the use of gravity in order to produce counterweights. Everything is in a state of tension, such as trees, since they grow despite gravity."
The sculptures are combined with woodcuts, lithographs and drawings that play with our visual perception through optical effects. In a truly poetic fashion, this exhibition explores questions of everyday certainties and playfully tests our perception.
Dr. Christine Nippe